Nigerian Immigration Recruitment 2020 is currently on, we are pleased to inform the general public that the NIS recruitment 2020 portal is not open for the application.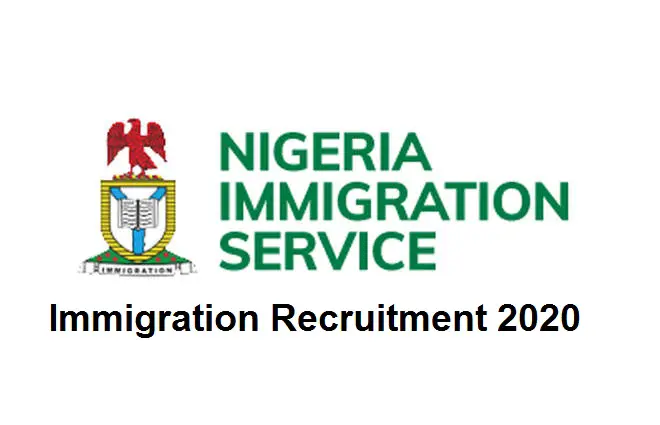 Therefore, all interested applicants who wish to apply for the Nigerian Immigration Recruitment 2020 should read through this guide carefully.
As published on the national Dailies on Friday 13th March 2020, the Board hereby informs that the website for the recruitment exercise has been changed to www.immigrationrecruitment.org.ng
Consequently, the earlier website indicated in the previous publication is no longer in use and so not tenable.
The Board wishes to reiterate that apart from the change and migration to a new website, all information contained in the notice remain valid.
The public is advised to note that application for the recruitment exercise does NOT require any monetary payments. It is FREE.
Requirement For The Nigerian Immigration recruitment 2020
The following items must be provided for the NIS recruitment 2020, kindly note that anyone who does not possess this should make them available.
Applicant must be Nigerian by birth;
Applicants must possess the requisite qualifications and Certificates.
Applicant must be between the ages of 18-30 years;
Applicant's height must not be less than 1.65m for males and 1.60m for females;
Applicant's chest measurement of not less than 0.87m for men;
Computer literacy will be an added advantage.
Applicants with any of the following disabilities need not apply:
Impediment in speech (stammerer/ dumb),
Gross malformation of teeth,
Knocked knees,
Bent knees,
Bow legs,
K-legs,
Flat foot,
Limb legs,
Bent arms/ deformed hands /fracture,
Defective eye sight (squint-eye, crossed eye, one-eyed and total blindness),
Amputation of any part of physical body, Hearing impaired (deaf), Hunched back, Obesity, Pregnancy, Medical challenges and any other physical deformity not mentioned.
How to Apply for Nigerian Immigration recruitment 2020?
Interested candidates are to visit the official portal www.immigrationrecruitment.org.ng
Select 'Apply Here' under the Rank/ Cadre which you are qualified for,
Register with a valid and functional email account,
A verification link would be sent to your email.
Then proceed with the registration.
On a final note, kindly disregard any phone call, SMS or website publication you see about about Nigerian immigration service recruitment asking for money.
If you think this post can be helpful to somebody else, please share it on Twitter, Facebook, Whatsapp or Email it to friends. There are buttons below for this (easy to use too)!